GoodWe Inverter configuration with Trydan
To configure Trydan on the GoodWe inverter, the first thing to do is to check whether the inverter model is one of those that establish a direct wireless connection with the e-Charger. At the moment, those with ES/EM/BP terminations are compatible, as well as those using the ET/EH/BT/BH protocol, although the latter are still in the experimental phase.
Next, the IP of the inverter to which the connection is to be made must be identified. This can be obtained from the router or by using the IP finder. It is essential that both the e-Charger and the inverter are connected to the same WiFi network. Another option is to establish a fixed WiFi network, so that we can always work on the same IP address without changing it. To do this, it will be necessary to configure the inverter following the instructions below:
STEPS TO FOLLOW:
Press the Wifi Reload button on the inverter. It will automatically generate a WiFi network similar to: "Solar-WiFi…".
Connect to this network by entering the password: 12345678.
From a browser, access the address: 10.10.100.253
To log in, enter the following data: User Name: "admin" Password: "admin".
On the last screen, configure the WiFi network.
IT IS VERY IMPORTANT NOT TO SELECT IN IPDHCP Mode the DHCP option.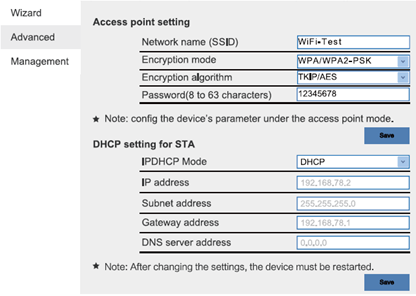 Finally, to configure in the Trydan APP consult the Dynamic Control Manual, select GoodWe as an option in the list of available meters and the completion of the model. Don't forget to save the changes so that the modifications are registered correctly.