You may be wondering whether it is profitable to invest in solar panels as a source of energy. The first thing you should know is that, depending on the type of installation you have, you will obtain one profitability or another. It will also affect the use or amortisation of the energy. In addition, if you are an electric car user, you can charge your vehicle only with solar surpluses, which will mean considerable savings.
In this article we explain what types of photovoltaic you can install in your home depending on your needs and we will focus on one of the most established solar inverters on the market today: SolaX. We show you how to charge an electric car with the SolaX solar inverter.
What types of solar installations are there?
It depends on the energy supply needs of each user and the characteristics of the site where the installation is carried out. There are two types of photovoltaic installations:
Off-grid solar installation
This installation is usually carried out in places where there is no electricity supply. Therefore, the only source of energy will be that produced by the solar modules. It is usually more expensive in economic and technical terms as the project will be larger. However, it can be stated that, once the installation has been amortised, the energy savings will be 100%.
Direct self-consumption or grid-connected installation
This type of installation is the most common in households. It is the simplest and most practical alternative, as it complements electrical energy with solar energy, offering the user substantial savings while still offering benefits when there is insufficient solar production or when consumption increases.
The payback period for solar installations is estimated at 10 years. However, depending on the use and needs of each user, a higher or lower yield can be obtained. If an electric car is also to be charged with solar energy, we would save 80% more per month than a user of a combustion vehicle. So we are talking about figures worth valuing.
Features of the SolaX inverter for charging an electric car
The SolaX X1-Hybrid solar inverter is a third generation single-phase inverter for self-consumption. Its operating mechanism is based on HV lithium, gel and lead batteries. It has two MPPT, with a string input of 14A each and an MPPT voltage range of 125-550Vdc. The SolaX X3-Hybrid version is also available for three-phase installations and offers very similar features.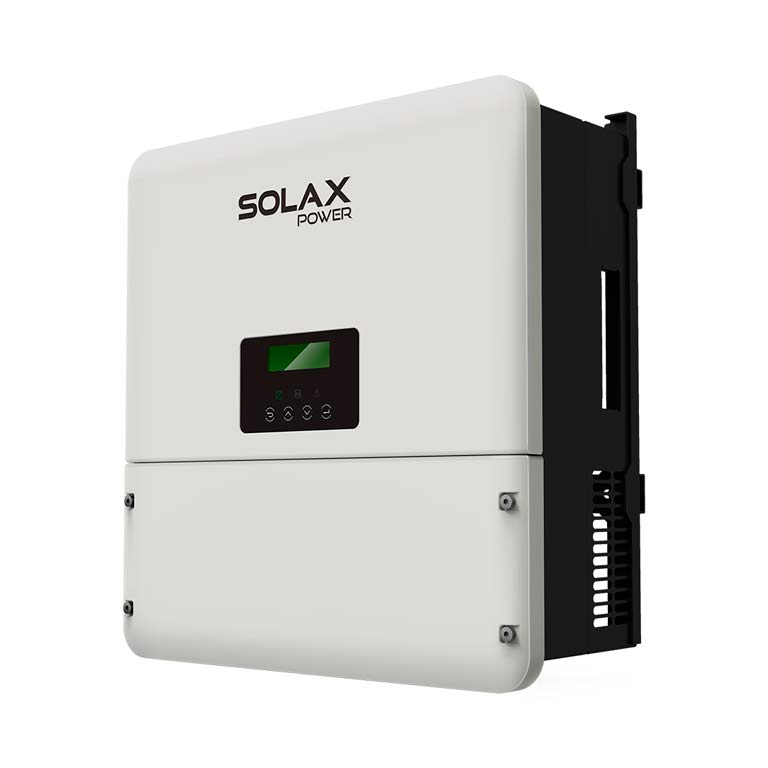 SolaX, a benchmark in terms of photovoltaics, offers users comprehensive protection against power outages in its inverter models. In addition, it provides them with an intuitive interface and remote monitoring and control via WiFi.
Which charger do we recommend for charging with solar panels?
We recommend Trydan, a V2C e-Charger. A charger that is constantly updated to increase its performance. In addition, communication with photovoltaic installations is much easier. The charger is compatible with all solar inverters on the market, but it is also capable of establishing a direct wireless connection with the SolaX solar inverter without the need to install an ammeter clamp.
How to install the SolaX inverter to charge your car?
The first step to benefit from charging your electric car thanks to photovoltaic energy is to make sure that your SolaX inverter has been correctly installed and configured. In order to be able to take measurements of household consumption, it is necessary to connect the current clamp with RJ45 connector, which is included with the inverter, to the inverter. You can use the following diagram as a guide: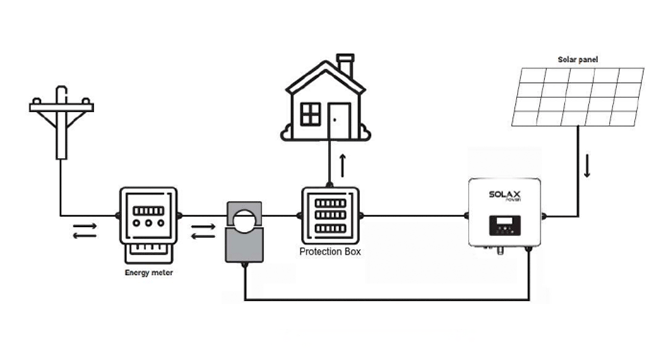 Finally, it will be necessary to link and configure the charger with the inverter via the SolaX Cloud app and V2C Cloud.