Last 14th, 15th and 16th of June, V2C had the honour to participate for the first time in the prestigious Power2Drive trade fair in Munich, Germany. This event, which brought together leading companies in the electric mobility sector from all over the world, was a unique opportunity to exchange ideas, learn about the latest trends and make valuable connections in the industry.
Power2Drive, the benchmark meeting for e-mobility
The event has become a key meeting point for professionals, experts and enthusiasts of electric mobility. During three intense days, Messe Munich brought together the latest developments in charging infrastructures and emerging technologies.
V2C was present at the event showcasing the latest developments in its e-Chargers, being an unrivalled opportunity to show the world its smart chargers for electric vehicles. The company's stand attracted numerous visitors of all nationalities, including representatives from automotive companies, energy service providers and industry professionals.
V2C leads the way in innovation
During the event, V2C presented our latest advances in charging technology, highlighting the efficiency, compatibility and safety of its electric chargers. V2C's team of experts were on hand to answer questions, provide personalised advice and establish strategic partnerships with other companies in the industry.
In addition, V2C was pleased to attend conferences and panel discussions with prominent industry leaders. Topics such as the expansion of the charging station network, the integration of renewable energy sources and the role of electric vehicles in the transition to a sustainable future were addressed. These sessions provided unique insights into current and future industry trends, as well as inspiring ideas to propel V2C into tomorrow.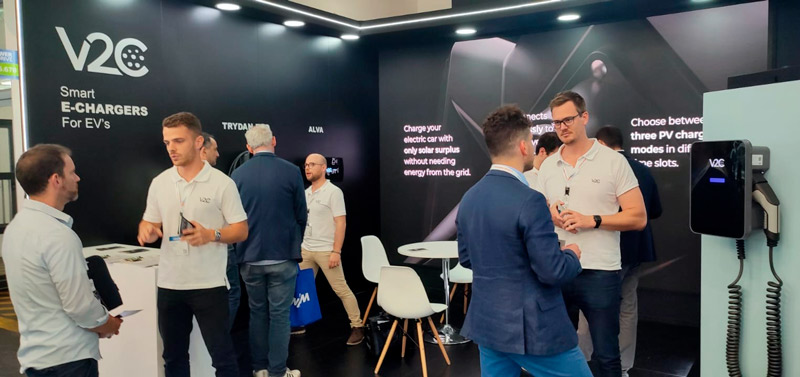 V2C established contacts with other companies in the sector during various networking events and private meetings. These interactions allowed to explore collaboration opportunities, exchange know-how and strengthen the company's position in the electric mobility market.
In summary, the company's participation in Power2Drive has given the company the opportunity to showcase its proven expertise as an electric charger manufacturer globally, connect with industry leaders and establish the brand at the forefront of the latest innovations.